CD Details
Sure, you can play the stock market. You can also wish on a star and hope the sky rains down wads of cash.
Or you can be smart and diversify your funds. Put some money into a risk-free CD and count on guaranteed returns. Then cash out when your term is up, or roll it over into another term.
Enjoy competitive fixed rate APY*, higher than regular savings
Earn higher interest than regular savings
Choose from a variety of terms that range from 6 months to 5 years
Penalty for early withdrawal applies. Fees may reduce earnings.
FDIC insured up to $250,000
$1,000 minimum deposit to open, minimum deposit to open a CD with a special offered rate may vary so contact a German American State Bank Representative for more details
NEW CD SPECIAL!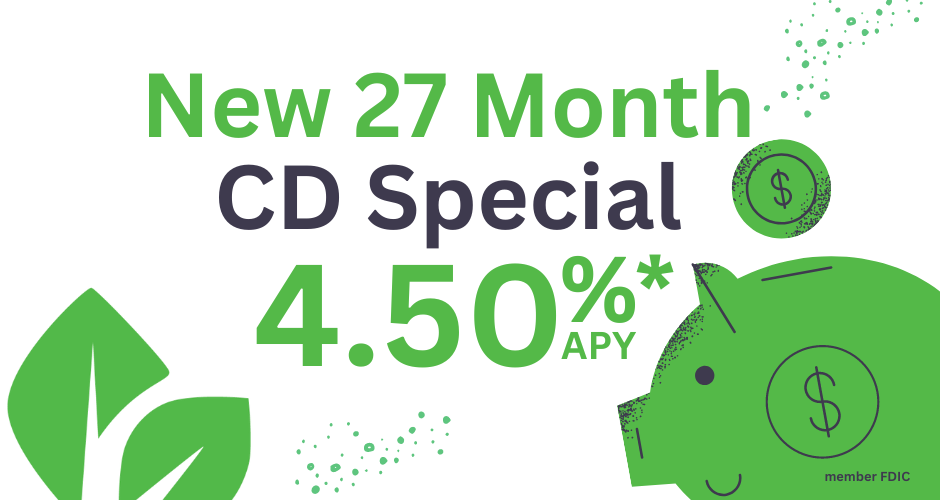 *Annual percentage yield of 4.50% at an interest rate of 4.43% accurate as of 7/11/23. Twenty-seven month term Certificate of Deposit or Individual Retirement Account. Minimum deposit of $10,000 of new money or $5,000 for renewals is required to open this account. Maximum deposit amount of $250,000. Early withdrawal at any time will result in the loss of 12 months interest. Advertised interest rates and APY are offered at the Bank's discretion and may change daily. This account will automatically renew at maturity into a standard thirty-six month fixed rate Certificate of Deposit or IRA at the then prevailing Annual Percentage Yield. No institutional investors. Contact a bank service representative for more information. Member FDIC.
*APY = Annual Percentage Yield