Welcome to ROUND 2 OF MARCH MADNESS at German American State Bank! READY to WIN BIG?! Each time you SWIPE your German American State Bank DEBIT CARD NOW through March 31, 2023 you will be entered into our MARCH MADNESS GIVEAWAY!
You could win.....
- 1 Under Armour Duffle Bag
- 1 JBL Portable Bluetook Speaker
- A $200 Gift Card to Dick's Sporting Books
View the details below and start swiping to win!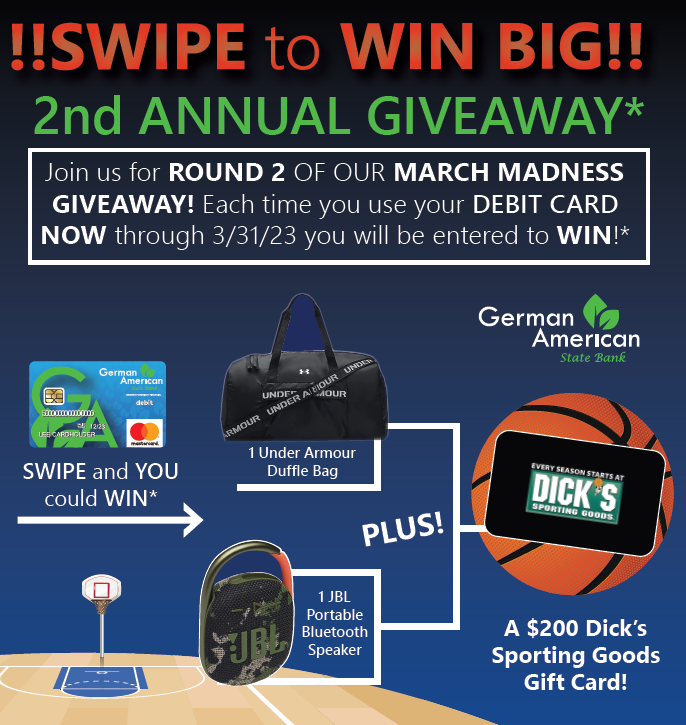 * Offer valid beginning 3/1/2023 and subject to change at any time. The value of the prize is approximately $300. Drawing will be held on 4/3/2023. Odds of winning are determined by the number of entries. Debit card transactions must post and settle between 3/1/23 and 3/31/23 in order to be counted as one entry. Giveaway prize will be awarded to the account holder whose social security number is tied to the account the debit card transaction(s) posted through. Alternative methods of entering into the March Madness Drawing include; by mail to German American State Bank, PO Box 89, German Valley, IL 61039, by email at [email protected] or by entering in-person at any of our locations. Alternative methods for entry are limited to one entry per day per account. Must be 18 years or older to participate. Transactions conducted with business debit cards will not be counted as an entry. Sponsored by German American State Bank at 100 Church Street, German Valley IL 61039. Contact a bank service representative for additional details. Member FDIC, Equal Housing Lender.